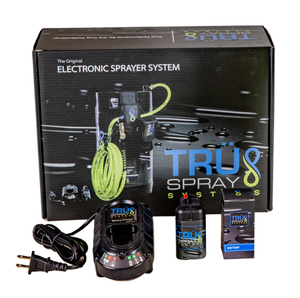 ST0702TS - TRUSPRAY OASIS+ SYSTEM
Already have a keg? No worries! The OASIS TRÜ Spray Systems allows you to convert your existing keg from a standard unit to a next level "AIRLESS" spraying system. 
Turn Key ready to work, Fits on Most Tanks or Tint Kegs.
THIS IS EVERYTHING YOU GET!

TRÜ Pouch - Custom design to hold it all

 

TRÜ Pressure - Premium 90psi Hydro-Pump
TRÜ Power - (1) Rechargeable custom Li-Ion Battery
TRÜ Charger - Battery Charger
TRÜ Source - On/Off Switch with status

Quick Release Connector
15Ft 

FlexBLUE hose

Polyjet Trigger
Swivel Barrel Hose Adapter

 

 

Poly Resin Retainer
Flat Spray nozzle tip - 80 Degrees
100 Mesh filter strainer
*KEG NOT INCLUDED
*may require additional parts and modifications to your existing keg
---
We Also Recommend